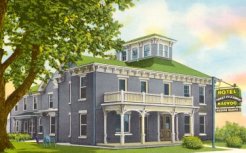 The Hotel Nauvoo main building dates from 1841 when it was erected as a residence, in part by J. J. Brendt, a Latter Day Saint, and completed by Adam Swartz, a German immigrant. It was one of the outstanding structures of the area with its spacious rooms, porch and upper verandah, and its unique cupola, all typical of Pioneer Mormon architecture.
The Swartz residence was purchased in 1885 by William C. Reimbold, who converted it to the Hotel Oriental. In addition to overnight accommodations for travelers, Reimbold offered a dining room, and part of the building was used for an antique shop containing collections of Mormon and Icarian wood, metal and stone pieces, Indian arrowheads and manuscripts of every description.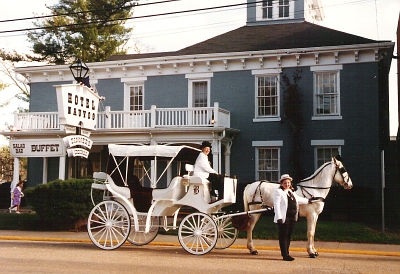 Mrs. Reimbold continued the operation of the hotel for a time after William's death in 1938. She then leased the property to Mr. And Mrs. L.E. Reimbold, who operated it for two years. The building then sat idle and was in total disrepair when purchased by John A. Kraus in 1946. His son, Elmer J. Kraus, oversaw the extensive restoration and the hotel was opened as Hotel Nauvoo in 1948. Though it has been modernized, it retains its original historic charm.
Today the hotel embodies all of the original building, to which several additions have been made. Two new kitchens were built and in 1964 another large dining room was added which utilized an old building adjoining the hotel. Bricks from Joseph Smith's Red Brick Store were used in 1879 to replace a wall of the building and now are part of the Nauvoo Room's east wall. Finger impressions were discovered in several of the clay bricks, a result of their being handmade. At one end of the room stands a German-era marble top sideboard, one of the pieces salvaged from the original hotel building. The Nauvoo Room is dedicated to the late Lane K. Newberry, an internationally famed artist and historian, who sketched the room before his death and was responsible for its re-birth. Many of his paintings hang in the various rooms of the hotel and serve as a reminder of Nauvoo's rich heritage which is very much alive in the present.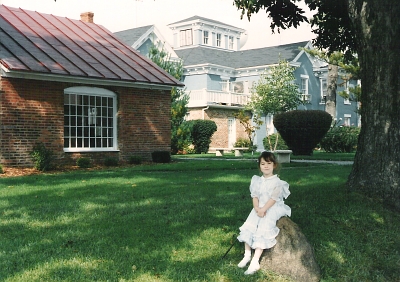 In the Heritage Room, opened in 1968, the wall of a French Icarian frame home and bricks from a Mormon era house were incorporated to depict a "street scene from bygone days."
Other dining rooms, each with a unique atmosphere, feature handmade woodwork and arches typical of the original home.
Today, all rooms are totally modernized, including cable television and wireless Internet access.
Hotel Nauvoo means a family's hospitality extended through dinners and accommodations to families and friends traveling to Nauvoo from near and far. To quote the late Mr. And Mrs. E. J. Kraus, "We like to feel that each person is our own special guest. Good food, service and gracious hospitality are yours when you visit us at Historic Hotel Nauvoo."