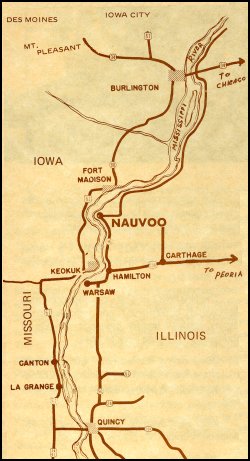 The Hotel Nauvoo is located on Nauvoo's Mulholland street, the main street of the downtown. Coming in to Nauvoo on Highway 96, simply remain on the highway until you see the Hotel Nauvoo sign. The Nauvoo Temple is one block from the Hotel. Nauvoo's Historic District, Uptown District, and City Park are all within walking distance of the Hotel Nauvoo.
For directions to reach Nauvoo, please visit Google Maps or the Nauvoo Tourism web site.
For additional directions or more information call (217) 453-2211 or contact us online.