Dining at the Hotel Nauvoo is an experience for all the senses. The Buffet is a gourmet's tour de force, with a quantity and variety that will challenge even the biggest appetite to sample every item on the buffet. Some of the entrées featured on our buffet are southern fried chicken, channel catfish, carved roast beef, turkey, and ham. Our famous wild rice dressing along with vegetables, potatoes, and homemade breads, and a forty item salad bar will satisfy even the most discriminating palate. There is also a full menu (pdf) for those who prefer to dine a la carte.
The five dining rooms reflect five different periods of Nauvoo's history in sumptuous luxury and comfort. Service is old-fashioned and impeccable. Please be our special guest as we celebrate over 70 years of service.
Please call (217) 453-2211 for Reservations or Information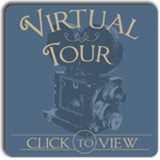 The Hotel Nauvoo Dining Rooms are open for an Extended Season through Saturday, December 14, 2019. Please book your Christmas parties now. Overnight Guest Rooms remain open year 'round..
Dining Room Hours:
Open

Wednesday through Saturday

from 4:30 PM to 8:00 PM.
Open

Sundays

from 11:00 AM until 2:00 PM.
The Dining Rooms are closed on Mondays and Tuesdays.
Closed Thanksgiving Day November 28 & Friday, November 29.
For breakfast and lunch, please try our "Grandpa John's Café", just across the street. There is plenty of seating. Groups are welcome.